As an health + wellness and/or eco-conscious business,we know that you need to stock products that not only align with your values and vision but simultaneously can make a good profit and serve exactly what your customers desire.
Partnering with My Organic Child and doTerra essential oils can be an awesome addition to your range of products/services, supplying a pure product that is not only ethically + sustainably sourced, but provides a natural solution to your customers/client's problems.  Additionally, you support farmers to make a fair wage both here in Australia and globally including in 20 developing countries all while bringing in a wonderful income stream.
That's all well and good, but we also know that you want super high quality products that have a proven track record, are in high demand and fly off the shelves!
To read more why My Organic Child has chosen to partner with this brand and share doTerra essential oils with the world, read this or watch the video below which explains the incredible co-impact sourcing model used that collaborates with the farmers globally - creating jobs as well as growing, harvesting + distilling its oils in the regions where the plants grow indigenously and thus ensuring that essential oils provided are the some of the most pure, potent and natural on the planet.
You can have peace of mind knowing they have been ethically and sustainably sourced and are supporting, rather than destroying the planet.
Some of the biggest natural retailers in Australia that are already in partnership with doTerra include Shop Naturally, local health food stores, Yoga/Pilates studios, Personal trainers, Wellness + Meditation Centres, Health Coaches, online stores + bloggers and cafes all around the world who offer a range of natural, safe, pure, effective and incredible products.
As a business, we know that you desire value for money so the most cost-effective + smartest option for you to start with is our incredible Oil Sharing Kit which will give you products to stock immediately and provide the most long and short term savings.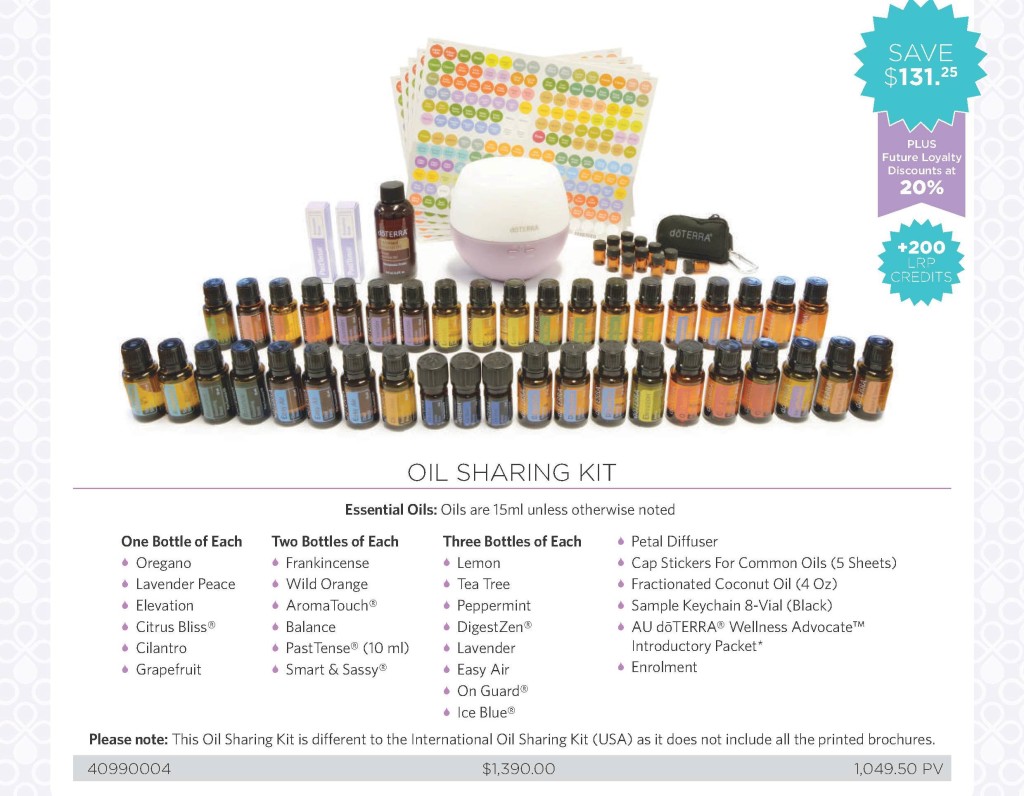 This is one of the best-selling business startup kits as it comes with multiples of our most popular and top selling essential oils as well as your wholesale membership, (You will save $131.25 PLUS receive 200 free product credits worth over $200 when you place a min 100pv (around $150 value) order the following month you set your account up).
The other cool thing is that you get started STRAIGHT AWAY on 20% loyalty rewards (much higher than other kits) which means you not only get wholesale prices (25% discount off retail) but each month when you order new product for your business you will receive 20% back to spend on MORE free product.
And get this - this increases to 25% after three months and 30% after six months, saving you a whopping total of 55% off the recommended retail price!
For more understanding and terms and conditions of our loyalty rewards program watch this video and have a read of this document.
FREE SHIPPING:
On top of all this every time you place a loyalty rewards order online you will get points back for your shipping as well so this means your shipping is 100% free for local orders!!
Partnering with My Organic Child comes with a ton of benefits. This is truly a partnership, not just a supplier relationship.
When you get started, to make your life easier we are offering:
A 1 hour one-on-one consultation to new business partners who open an account with an Oil Sharing Kit
Access to our wonderful customer service team and private facebook group
Training + Materials to help you best serve your customers (whether you want to just on-sell the oils retail or help your customers/other retailers get wholesale access so you can actually create an even greater income stream in your business)
As a leader in one the fastest growing businesses in Australia, I'd love to chat to you how I have created a thriving and complementary income stream with these incredible essential oils and products and how you can too.
Currently there is less than 1% of the population with these oils in their home and and HUGE room for growth and potential as consumer demand grows for natural, safe and effective products so I would love for you to be a part of it.
If you are ready to get started right away - head here and choose the country where you would like it delivered from. On the next page make sure you choose WHOLESALE prices, then fill in your details and choose the Oil Sharing Kit from the kit options.
If you'd like to chat more, feel free to contact me via the contact page or directly on hello@myorganicchild.com. Alternatively, I love talking to people so my number is 0410 246 844 and I can help you get set up over the phone.
I look forward to partnering with you and supporting you on your journey.